details
overview
Organic Quinoa Chocolate Chip Protein Bar
greener qualities
Certified Organic Ingredients
Great Source of Protein
Great Source of Fiber
No Sodium
No Cholesterol
0g of Trans Fat
Free of Artificial Additives and Fillers
Free of Artificial Preservatives
Free of Artificial Flavors
Free of Synthetic Colors & Dyes
Gluten-Free
Soy-Free
Non-GMO
Vegan
Plant-Based
Crafted with Organic Superfoods
ingredients / materials
Organic brown rice protein concentrate, organic tapioca syrup, organic almonds, organic agave inulin syrup, organic dates, organic quinoa, organic semi-sweet chocolate chips (organic can sugar, organic chocolate, organic cocoa butter, organic vanilla extract), organic flaxseeds.
nutritional information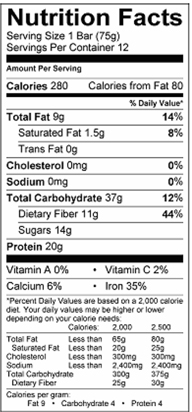 Meet The Vendor
22 Days Nutrition crafts vegan, gluten-free, certified organic and non-GMO energy and protein bars with exclusively plant-based ingredients. Their products also include a variety of protein powders made with plant protein and organic superfoods. In addition to utilizing high-quality ingredients, 22 Days Nutrition formulates for function, striving to meet the needs of any active lifestyle. They believe a vegan/plant-based lifestyle is essential if one desire's people and planet health.